Termite Control
Phoenix, AZ
Termite Protection for Your Home
Coming home to termites is the last thing your family wants.
Pests of any kind from bed bugs, rodents, scorpions, to even termites, can make your safe, comfortable house feel exposed to the vast desert. Both the EPA and CDC agree that pests can spread serious diseases; that's why it's essential to get your house treated.
Not only do termites invade your privacy and risk your health, but they can also damage and ruin your home. Termites especially cause harm by feeding on wood and are estimated to cause billions of dollars in structural damage annually in the United States when not quickly treated with a termite control service.
Quality Arizona Termite Control Company
Non-chemical treatments? Chemical treatments? Barrier treatments? Termite baits? Wood treatment? When dealing with termites, there's a number of different termite control treatments for each situation, and it can be overwhelming to find the perfect choice. That's why it's best to leave this to the professionals for proper and quality termite control.
Plus, you don't want to try to tackle a pest problem by yourself. The investment of time for research, tools, and execution can add up to be costly—and possibly ineffective. You never know what you're getting into when you start to identify a pest problem. Even if you are successful at killing a pest once on your own, you likely won't keep the problem away without quality termite control. Using superior equipment and the correct chemicals under and around the perimeter of a house is needed to prevent pests. An expert can help do this in a quick, safe, and environmentally-friendly way.
Urban Desert Pest Control has an experienced team of licensed technicians ready to find, eradicate, and prevent any termite issues, no matter how big or small. With over 20 years of combined team experience, we've seen it all.
Termites, like many problems, can't be solved by attacking and removing them on the surface but require precise termite control. With quality care and customer service, Urban Desert Pest Control is proactive to keep your family and home safe from future termites.
How Can I Tell If I Have Termites? 
Millions of homes every year are infested with termites, and virtually every property is at risk. They can quickly invade a home before you even know. So, it's important to stay alert and pay attention to any warning signs of possible infestation before it becomes a problem. Here are some of the most common ways to recognize termites in your house.
The main sign of the presence of subterranean termites are termite tubes. These are the pathways termites use to keep the humidity and temperature right as they search for food sources (cellulose) and build their colonies. The tubes are made from soil, wood and termite saliva. The tubes vary in size but are typically about the width of a coffee straw and brown in color. Subterranean termites are the most common type of termite in Phoenix.
If you can hear clicking noises or thumping inside the walls or floor – Termites are not quiet creatures. Worker termites make a lot of noise when they devour wood and can easily be detected by listening closely. Likewise, soldier termites cause a stir by banging their head against the wood or shaking to communicate with others in the colony.
Swarming termites are produced when a colony reaches its capacity.  These winged termites are called alates and they include both males and females. Their sole purpose is to find a suitable place to start a new colony.  When they do, they shed their wings and get straight to colony building.  So, looking for a termite swarm- especially after rainfall- or finding a flying termite or their wings, will help you recognize the threat of possible termite infestation.
Hollow-sounding wood – Because termites eat wood from the inside, they can leave thin pieces of wood behind, causing the hollow sound. This can be a little more difficult to notice, but it's a telltale sign of pests. If you hear clicking or see wings in a certain area of the house, an easy termite test is knocking or hitting the wood to see if it's hollow.
Detection can be as simple as pausing to listen, look, or knock, but it's worth the check every few weeks before you have a devastating problem to avoid the risk from delaying termite control. We can help you with frequent and thorough inspections for these—and more—termite warning signs.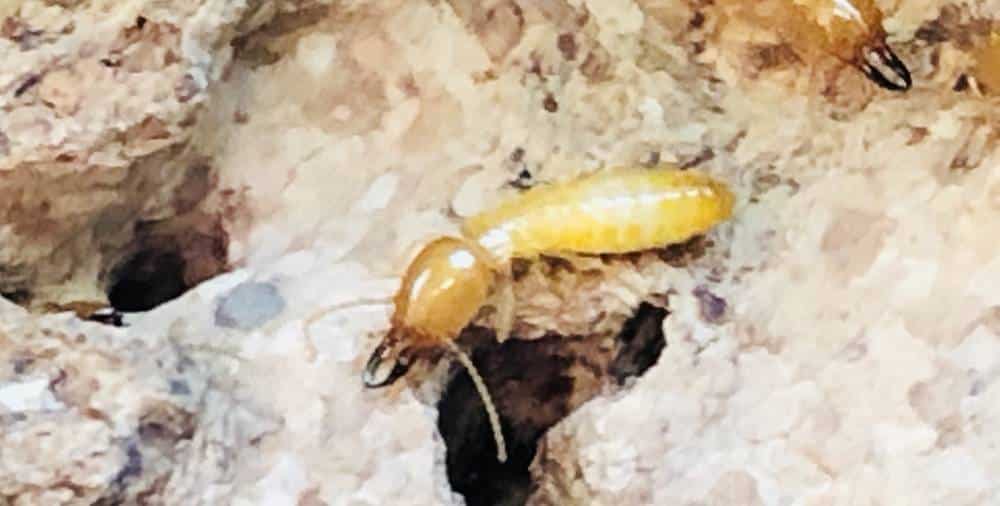 Why Choose Us For Termite Control? 
Who better to trust to keep your family safe than a family-run, affordable, and experienced company? Urban Desert Pest Control was founded in 2015 with these values in mind. Since then, Urban Desert has seen tremendous growth—currently having over 20 employees and servicing all major cities in Maricopa County.
Our technicians are meticulously trained to promptly find and eliminate pest problems of all sizes. And we care to go the extra mile by checking for any other pest problems you may potentially experience.
Urban Desert Pest Control is top-rated, customer-focused, and won't break your bank servicing your home.
Get a Free Termite Inspection 
If you have a termite problem—or even think you might have a termite problem—it's not worth the potential termite damage costs by waiting to solve or find out on your own. We at Urban Desert Pest Control are ready to eradicate any pests and ensure peace and safety back to your home for a longtime.
Request a free quote today from one of our trained termite control professionals for guaranteed results!