Termite Treatment
Phoenix, AZ
Termite Control Treatments
When dealing with termites, it's best to err on the side of caution by having a professional inspect and eradicate any pest infestations in your home.
Known as the "silent destroyers," termites can quickly—and sometimes undetectably—invade a house and inflict costly harm. However, doing it yourself can be expensive, a big investment of time, and, more often than not, ineffective. A professional will provide proper treatment that not only solves your immediate problem but also leaves a lasting impact, keeping pesky critters away for a long time. Treatment requires careful inspection, superior knowledge, quality chemicals, state-of-the-art equipment, and unparalleled care.
Each case of treatment is handled differently to ensure successful results depending on the situation.
Our Treatments & Technicians
For residents in Arizona with its intense heat and humidity, there isn't a problem of if you'll get termites, but when. With experienced and top-notch technicians, Urban Desert Pest Control is ready to tackle your termite problem.
Urban Desert Pest Control uses the chemical Termidor® HE, which is effective anywhere between 10 to 15 years, leaving lasting results for your household. As one of the most trusted names in termite control, Termidor® HE cuts time and labor. In fact, according to BASF, one of the largest global chemical producers, Termidor® HE is 50% more time-efficient than conventional termiticides.
It requires less water, fewer drill holes, and smaller trenches to get the job done. This means you can get back to your home faster and not stress about breaking the bank with our services. For your exterior, we spray Termidor® around the perimeter of the house, trench all of the dirt areas, drill at the concrete, budding slabs, back patio, front porch, etc. The chemical is applied safely under the soil, so your children or pets won't accidentally stumble upon any treated areas.
If your interior is infested, we will come in and foam the plumbing voids inside walls, toilets, bathtubs to protect the areas where termites penetrate the foundation of our home. We pride ourselves in treating both your interior and exterior to such a thorough extent, because many companies won't do both. We're always looking to separate ourselves from the competition.
This treatment guarantees success both inside and outside your home. Urban Desert Pest Control is so confident you'll be satisfied with our results, that we offer a 5-year warranty upfront with our treatment. And you can even renew for 5 more years if you'd like. That's a total of 10 years, where other companies typically only offer a 1-or 3-year guarantee!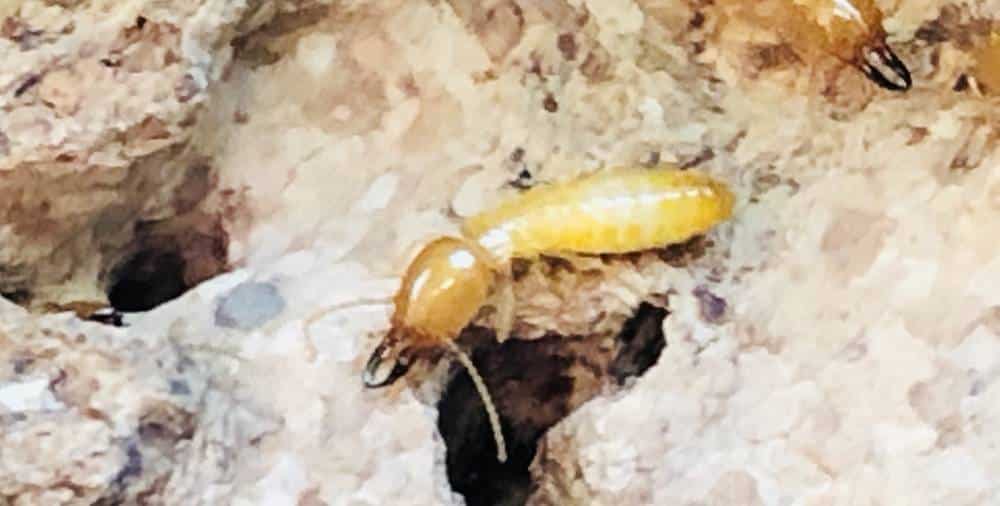 Another part of what makes our treatment so effective is our trained and caring technicians. Urban Desert Pest Control only hires the best, and it shows in our results. Our team has grown to include 20 exceptional employees.
Each technician is carefully trained to quickly notice and eradicate any termite issue. The dedicated termite & rodent division has leadership with a total of 10 years of experience.
They've encountered every pest problem you can imagine, and will know exactly how to keep your home safe. Above all, our technicians are part of the Urban Desert Pest family, where we aren't happy until you are. We treat every house we service like it's our own, so it must be perfect when we walk away. That's part of the Urban Desert guarantee.
A Small Business Delivering Results
Urban Desert Pest started in 2015 and has seen tremendous success since then. What started as Brad Olsen, company founder, going door to door to build a customer base while his wife, Trista, scheduled customers and managed the office has grown into one of the top-rated, most affordable pest control companies in the Phoenix area.
The results speak for themselves—21 years of experience, 23 cities currently serviced, and over 450 reviews on Yelp and 353 reviews on Google for a proud 4.9 out of 5! You won't find our level of detail, care, and success anywhere else.
Why Urban Desert Pest Control 
Previously, the pest control industry was dominated with long-term and binding contracts, expensive servicing, and a lack of quality. Brad Olsen founded Urban Desert Pest Control to change the industry for the better.
With a focus on exceptional customer service at an affordable price, Urban Desert stands out as the personal pest control company. We would love the opportunity to prove our word and rid your home of termites, now and for the foreseeable future.