Scorpion Control
Phoenix, AZ
Pest Protection for Your Home
Despite their small size, scorpions are venomous arachnids that can cause havoc to your property and health. They are known to penetrate through the tiniest of holes and hide in the smallest of cracks. Occasionally they'll be seen dangling on your ceiling or wall or lying mischievously on the edge of your bed or couch waiting to attack.
Of the 55 known species that inhabit Phoenix, Arizona, the bark scorpion is the most venomous, and sadly, the most populated. Their yellow-brown color makes it easier for them to camouflage with the carpets and tiles, making it even more challenging to eliminate them.
Do you have a scorpion problem that is ruining your peace of mind? Worry no more. At Urban Desert Pest Control, we have a solution for you.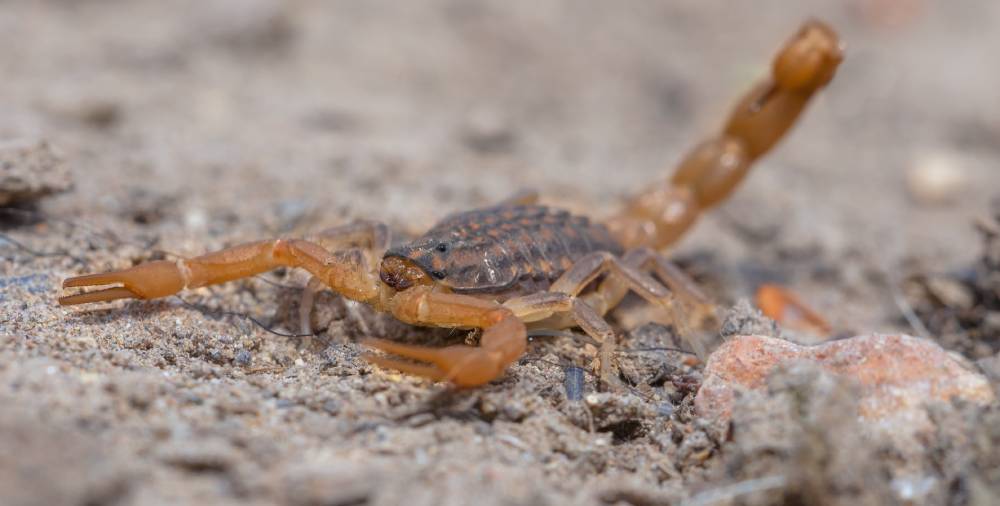 Urban Desert is your go-to pest control company for any pest problem in Phoenix, AZ. We have a team of highly trained technicians on the ground ready to serve you and manage your pest situation.
The safety of your family and pets is our top priority, and therefore, we only use human and pet-friendly products. Our years of experience make it easy for us to identify scorpion breeding grounds and nests and effectively eliminate them, leaving you and your family at ease.
We use the top-notch insecticide, which matches cost with value. Our product helps knock down scorpions hiding or strolling around, offering 60 to 90 days of control after we treat your property. We, however, advise our clients to schedule a repeat treatment within 30 days of the first treatment to manage the scorpions effectively.
If you have been wondering what attracts scorpions into your home, below are a few possible reasons.
Moisture – Phoenix is famous for its round-the-year sun and warm temperatures. Scorpions thrive best in warm temperatures. This explains why you will mostly find scorpions in water pipes, bathrooms, and kitchens. Besides, scorpions' prey tend to thrive where there is water which is why they are drawn to moist grounds.
Darkness – Scorpions are fond of darkness as it hides them from predators and keeps them away from direct sunlight. This is why scorpions wander into homes and hide between cracks and clefts of walls or floors. The darker your house, the more attracted they are to it.
Food and Shelter – Scorpions feed on insects like crickets, flies and spiders. They will also infest your home in search of shelter. Scorpions love being outdoors in wood piles, under rocks or along the cracks on the block fence of your home. But they also do not mind the indoors where they can crawl into a forsaken pile of laundry or into a dark storage closet.
Our treatment option involves a series of actions.
We begin by accessing your home or property to identify possible breeding grounds for scorpions, after which we spray our potent insecticide to all vital areas, including the block fence line and home foundation. We may recommend eliminating landscaping debris, removing clutter and replacing weather stripping around doors and windows.
Our scorpion seal out targets entry points on the exterior of the home and can also include sealing up the block fence where 80% of scorpions in a residential home reside.
We also offer blacklight services (at an additional fee), which entails doing a thorough scan of your home at night using a black light to force remaining scorpions, if any, out of their hiding places.
Declutter your home – This is primarily done by getting rid of piles of clothes, wood, or rocks around your home. You can also discard any unwanted boxes in your garage or drain stagnant water around your home to eliminate breeding grounds.
Seal any opening – We recommend sealing cracks or openings around doors or windows to keep scorpions at bay.
To enjoy our services, request a quote by filling out the form on our website, and our friendly staff will get back to you shortly. We guarantee the quality you will love.